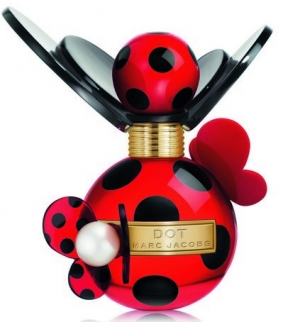 Marc Jacobs Dot - £37- £63 (approx)
Marc Jacobs perfumes are my all time favourite brand and I've started up my own little collection over the past few months. They are all such summery fragrances and they really do last agers. I have two 50ml bottles of Lola and Oh Lola! and a huge 100ml bottle of Oh Lola! too! I'm going to try and collect them all.
Dot is the newest fragrance and it smells amazing! I had a little sample the other day and I had to tare myself away before I bought it and broke my bank. Again it is very floral (statement Marc J) and its one of those things where when you first smell it, you just have to keep smelling over and over again - its that nice. Prices range from about £37 on wards, which to be honest is my normal perfume budget anyway, so I'd say its pretty decent depending on what size you buy. Another great product from my all time favourite brand!